We are back from Manchester's Future Everything, where we met a lot of stimulating people. We did not win the first prize, but getting to know Enric Senabre Hidalgo (CEO of Goteo) who chose our project as a case study for the crowdfunding was the best!
Everything begun on Thursday morning, when we met our "rivals", among which the Dutch giant Lars, who was surely one of the most easygoing people with an unstoppable silver tongue! Once we arrived at a co-working we participated to a micro-workshop for the construction of a crowdfunding project, working shoulder to shoulder with Milena Popova of Europeana, and after 40 minutes of this we talked about our project for the first time in front of an international public.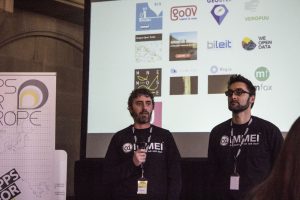 In the afternoon, right after arriving to the Town Hall, we were directed towards Enric: he knew the project already, we presented it in detail and after giving us a dedicated workshop, having us study projects that have been financed thanks to Goteo, he used Europeana Beacon as an example of a project on how to build the crowdfunding! There was a lot of brain storming and many participants fell in love with the project. We ended the day with new friendships and new ideas to advance it, greatly changing our commercial vision!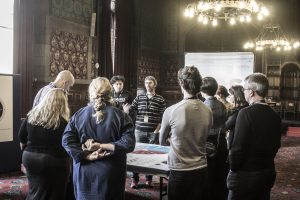 "Good morning. We're the ones from yesterday…" was our catchphrase in preparing the pitch: no one knew how to handle it! It actually was very easy even if emotions ran high, just as much as the adrenaline!
Then, pure boredom: "Here come the journalists for the interviews!", "Five minutes before the journalists come!", "Hello, I'm one of the journalists, we're coming after finishing this other interview", "Guys, the journalists had to leave!" 4 hours of waiting, used to chat with the other participants. Then we were called to go in front of the jury, a meeting that should have lasted 20 minutes but instead was 35 minutes long! Then, finally free!!!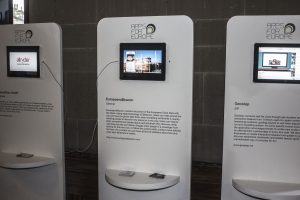 15 minutes in the hotel, then we walked to the Royal Northern College of Music where the award ceremony took place. An artisanal beer from the Thirsty Scholar and then party! At the ceremony we were all excited, maybe a bit hopeful, but after hearing the other presentations we realized that competition was of a high level: we really liked the French project Plume Labs on the atmospheric monitoring in big cities, Allryder to optimize public transportation commutes (a project inapplicable to Livorno!) and we also liked the project Bileit for the last minute sale of theatre tickets, maybe because one of us is also the artistic director of a theatre company in town. But when they announced that the winning project was GoOV by Lars, we were happy! His project, dedicated to public transport mobility for people with mental illnesses, was a bit lost on us (as in, "a smartphone in the hands of a mentally ill person will lasts like cats on the Aurelia road!"), but speaking with Lars, who explained exactly what it was and how it worked, we were deeply fascinated by the social importance it has and by the results it's already obtained (84% or people testing it already switched to only using public transport), and by his great dedication to this project!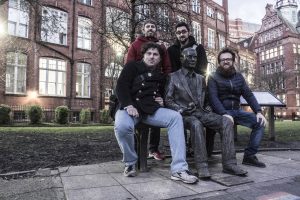 We finally got back home with a great experience and new friendships, like Lars, the girls who participated to the brain storming: Hellen, Geraldine and Ina who won one of the prizes of Europeana Creative, then Enric and Anne Marie from Goteo and lastly we met Milena and James from Europeana again, who really believe in our project.
Back in Livorno we finished moving into our new office and now we fully started our activities back up!