We came back from the Future Everything in Manchester where we had the pleasure to meet so many extraordinary people. We couldn't manage to win the first prize, but getting to know Enric Senabre Hidalgo (CEO di Goteo), who decided to choose our project as a crowdfunding case study for the workshop, it's been great! All started Thursday morning, when we first met our "enemies" like Lars the dutch giant, who undoubtly has been the most easy going with a lot of passion for talking! Then, as soon as we arrived in a great co working space (SpaceportX) we took a micro workshop about how to successfuly start a crowdfunding campaign, during which we worked closely with Milena Popova from Europeana and after about 40 minutes of brain storming we presented our project for the first time in front of an international audience.

That afternoon, as soon as we arrived at the Town Hall, we've met Enric: he was already familiar with our project, we started to describe it in detail and then he decided to use the Europeana Beacon as an example for starting a crowdfunding campaign! It's been quite a brain storming and many of the partecipants fall in love with the project. The day ended with new friendship, new ideas and a new vision for it!

"Good Morning. We're the guys from yesterday…" this has been our motto during the pitch brainstorming: no one had the slightest idea on how to make a pitch! In the end it has been very easy even if the tension was high but also the adrenaline that came at the very end before starting! After that a couple of hours of boring waiting: "Some journalists would want to interview you guys, they'll be here shortly!", "Five more minutes and they'll be here!", "Hi Guys, I'm from the press office, we're almost ready for you.", "Sorry Guys, the journalists had to go!" luckily we had the time to explore the event and had a chat with the other partecipants. Then it came the moment to meet the jury, a scheduled 20 minutes interview, that in the end lasted 35 minutes! Freedom at last!!!

15 minutes of Hotel relax, then a nice walk towards the Royal Northern College of Music where the Awards Ceremony would took place. Just the time for a crafted beer at the Thiristy Scholar and then we jumped into the party! During the ceremony we were all excited, maybe we started to belive we could win, anyhow after had watched the pitches we knew from the start that the competition would be high: we particulary liked the french project of Plume Labs regarding the air quality in big cities, Allryder to plan the best course using public transportation and the project Bileit who aims to solve the last minute ticket purchase problem for events, maybe because one of us is also an artistic director for a local troupe. When finally they announced the winner, GoOV the project presented by Lars, we've been very happy! His project aimed to help people with mental disabilities or dementia to travel safely with public transport, we need to be honest initially it left us perplexed (jokingly we thought "a smartphone in the hand of a mental disable people could last like a cat on a freeway"), but after had talk to Lars who explained to us in the detail how it works and what it aims to accomplish we fell in love with it, mostly becuase of it's social importance, for the extraordinary results they have already achived (84% of the test subjects switched completly to public transport instead of taxi), but most of all for the passion and love Lars had put in this project!

We came back home at last, with a great experience, new friendships like Lars, the girls that worked with us during the crowdfunding workshop: Hellen, Geraldine and Ina, that had won one of the awards for Europeana Creative, then Enric and Anne Marie from Goteo, and last but not least Milena and James from Europeana, who believe a lot in our project.
Back in Livorno we completed to moving to our new offices and since today we're back in business with new and freash energies!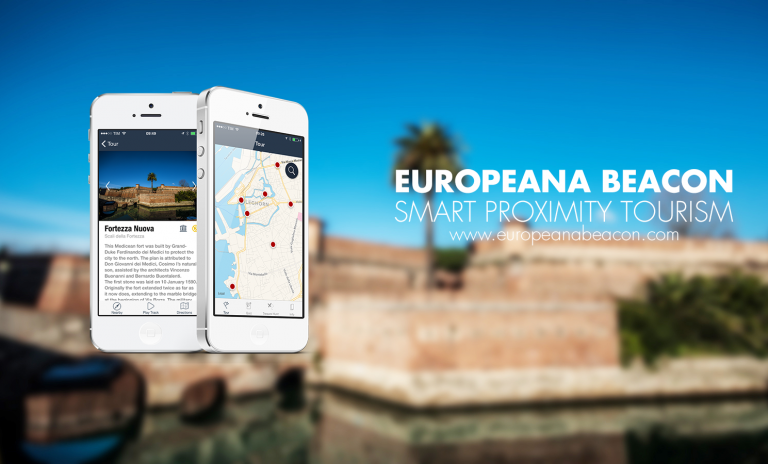 Here we go! This is the new prototype for the Future Everything Festival in Manchester, thanks to Europeana and Apps4Europe for this opportunity.
Some words about the App:
"Europeana Beacon combine the power of the Europeana Open Data with the latest cutting edge technology of iBeacons.
Users can walk around the city and have the phone alert them when something worthwhile is nearby, allowing people to discover new places in a new way. Users can read or listen comprensive guides about each landmark they discover, while watching pictures and videos. Engage other people in a scavenger hunt looking for the next clue, or follow the custom paths curators have tailored for them.
As a curator you can have all kind of statistics about how and often each landmark is visited."
Link to the website
http://www.europeanabeacon.com