Online shopping is growing, with a suitable platform and a good strategy you can join this trend.
E-commerce
, or
electronic commerce
, is a commercial activity that connects sellers and buyers through the Internet. The purchase of goods and/or services is handled by an online store, by
an app
and by many other sales channels (social media, marketplaces, etc.)
We will plan together and create an e-commerce solution for you using high-performance platforms and the most advanced technologies.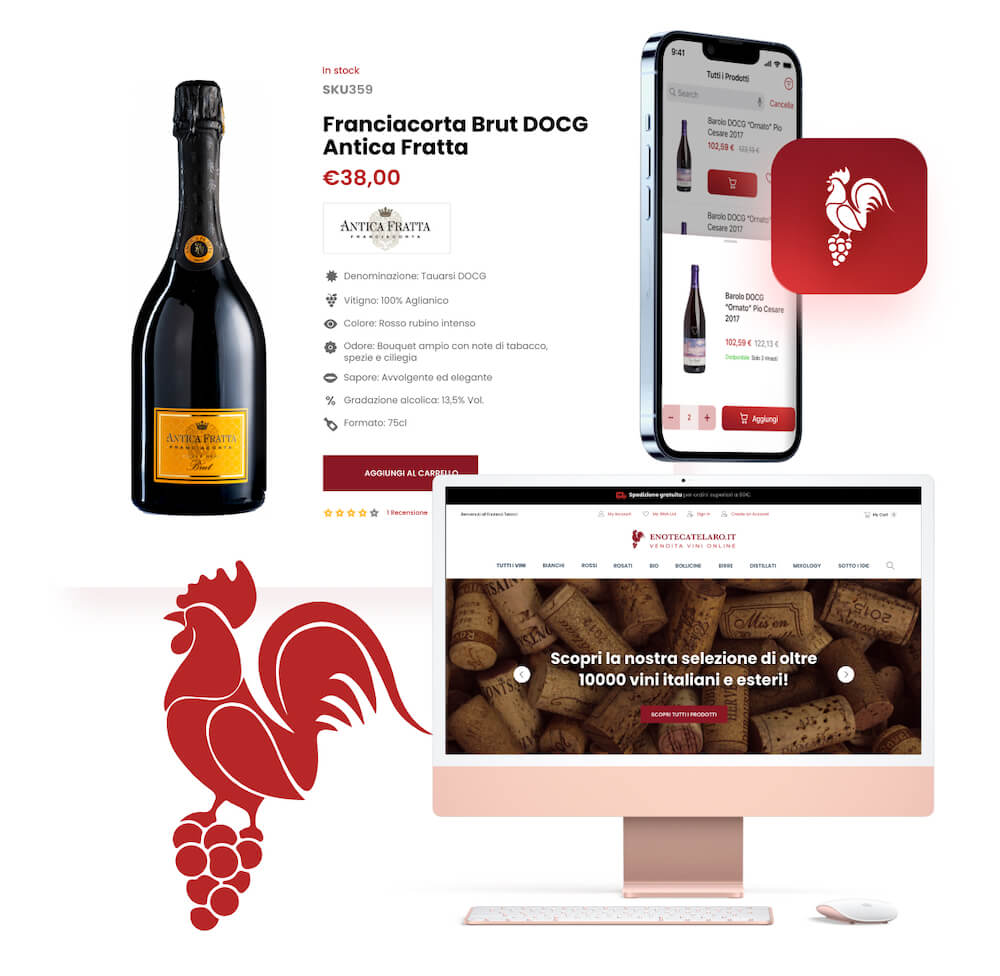 A custom e-commerce for buying wine
Enoteca Telaro was born from the shared passion of six brothers for wine and their native land. The company produces wines and is dedicated to the marketing of wine, both of their own production and not, as well as other food products. We took care of strengthening the Enoteca Telaro sales network, developing an e-commerce using the Magento platform, which guarantees customization based on the customer's specific functions and flows.
E-commerce platforms have very low management costs and have no geographical boundaries, the optimal condition for starting or strengthening your business. Here are some benefits of having an e-commerce online store:
Always open: your clients can make their purchase at any moment, even at night;
No boundaries tied to territory (you can sell to every part of the world);
Maintenance is cheap: the costs are considerably lower than the costs of a traditional store;
Every activity can be monitored with analysis tools;
It is flexible and customizable depending on the needs.
Power up your e-commerce with PrestaShop
This Content Management System (CMS) is specifically designed for e-commerce. PrestaShop stands out from all other competitors for its high potential and because through it you can best manage your e-commerce while also customizing it.
Some of the platforms we use in the creation of e-commerce websites:
Woocommerce
is a
WordPress
plugin
made for the creation of e-commerce. WordPress is the world's most used CMS (Content Management System), and Woocommerce is an excellent solution for simple projects, with fewer products, that can integrate with a communication strategy based on WordPress' core functionalities like blogging and content mass-creation.
Prestashop
is a standalone solution
born for the development of e-commerce.
This CMS is halfway between Woocommerce and Magento when it comes to difficulty of use. It has no limits of use and is customizable and extendable.
Magento
is the
most powerful solution
when it comes to development and performance, it is a standalone solution suitable for complex projects with a lot of products. Its complexity is also its best weapon, because it allows for all the flexibility that a large e-commerce needs.
During the creation of e-commerce websites, when we have to go beyond the functionality of the individual platforms, we are able to design and implement integration modules to enhance and extend the functioning of the single platform.
Let's write the future together.
We are always ready for the next challenge, start by telling us about your project.
Do you have an idea and don't know where to start? Do you have a technological problem you don't know how to solve? Do you need consultancy on your e-commerce?